by Margot Lurie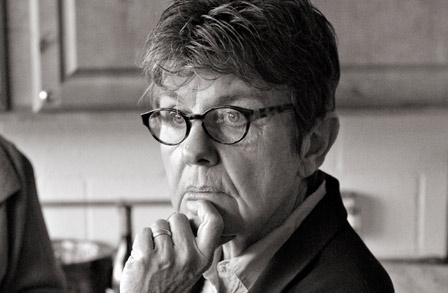 Many congratulations to Parnassus's friend and contributor Kay Ryan on her receipt of a National Humanities Medal.
Ryan adds the medal to a Pulitzer and a MacArthur fellowship, as well as a two-year stint (2008–2010) as our Poet Laureate. But while she may be wreathed in laurels, it's prickly Joshua trees that illustrate the cover of her selected poems, attesting both to her attachment to California and to the thorny transcendence that her poems offer. (The Joshua tree was named by Mormon settlers, for whom it called to mind Joshua beseeching God in prayer.)
Born in 1945, Ryan grew up in working-class towns in the San Joaquin Valley and the Mojave Desert; her father was a roughneck, her mother an elementary school teacher. She took degrees from UCLA (though it's "a point of honor" with her that she's never taken a creative writing course) and taught remedial English at a Marin County community college. All seven of her books of poetry are dedicated to her now-deceased wife, Carol Adair.
Trying to evoke the look and feel of Ryan's poems, reviewers have described them as "ribbons," "rivers," "Joseph Cornell boxes," and "Erik Satie pieces." For the most part, they're taking their cues from Ryan herself: Her poems praise the hoarding-and-sifting that begat Cornell's boxes and Satie's insouciance. Like Marianne Moore, Ryan plays both poet and critic in many of her poems, encouraging her readers to take her work as an Ars Poetica. She praises economy, ellipticism, wit, and precision in poems that are economical, elliptical, witty, and precise.
Ryan is that rare creature, a genuinely philosophical poet. One of her great gifts is the ability to translate philosophical principles into the vernacular.  In "Rats' Tails," she imagines "rats' tails, / just scattered / bits of script" and asks "how little / will suggest / the rat again." It's a modern-day rendition of the maxim "Ex ungue leonem" ("from its claw [we can know] the lion").
Her philosophizing, however, is never abstract, and her imagination is often downright compositional, like that of a painter or sculptor. In "Things Shouldn't Be So Hard," she envisions a physical imprint—a kind of negative space that records presence:
A life should leave
deep tracks:
. . . .
The passage
of a life should show;
it should abrade.
And when life stops,
a certain space—
however small—
should be left scarred
by the grand and
damaging parade.
Things shouldn't
be so hard.
"Hard" has, of course, two meanings here: "difficult" and "resistant to impact." But as always in Ryan's work, the verbal acrobatics underscore a real depth of feeling. Never keen on drawing attention to her own cleverness, Ryan simply lets her wordplay click into place. The plain plaintiveness of those last two lines gets me in the gut.
Brava to Ryan on a richly deserved honor, and to the National Endowment for the Humanities for getting this one right.
Two pieces by Ryan are in the Parnassus online archive:
"The First of Never" (poem)