"This is just the book to give your sister—if she's a loud, dirty, boozy girl." Thus spake Dylan Thomas on Flann O'Brien's novel, At Swim-Two-Birds. And they are fighting words, indeed—an author would be hard-pressed to find a better endorsement for her book-jacket. And writing a blurb—though hardly a noble literary calling—is at least ostensibly a way to help publicize and sell copies of a deserving book. And it's a venerable practice, too. The word "blurb" originated in 1907 (see image), but the idea dates back to the 14th century Arabic literature, where it was known as taqriz.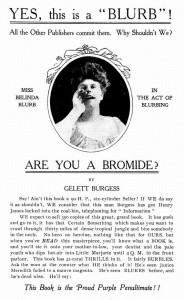 However, the Parnassus staff has noticed a trend in blurb-writing moving towards the vague, the hyperbolic, the flat-out useless. Most recently, we were alarmed by Patti Smith's militantly uninformative addendum to John Ashbery's translation of Rimbaud:
"…an exquisite, untainted translation of Rimbaud; a transmission as pure as a winged dove driven by snow."
Our bloggers' longstanding love of Horses aside, what, we implore you, does this mean? (Free subscription to the first credible breakdown and analysis of the aforementioned!) What happened to the blurb? Was it ever taken seriously, or even useful?
The short answer is no. Authors since George Orwell (who called them "disgusting tripe") have lamented blurbs since the word came into common use. So we at Parnassus have taken the liberty of identifying some common blurb-offenses.
1. For instance, catchwords like "luminous" and derivatives thereof invade the backs of perfectly respectable books of poetry that never did anything to deserve such hapless description:
"_____'s lines have the luminosity of myth…"
"Passages of breathtakingly precise and luminous observation…"
"Dark moments seem charged with an eerie luminosity…"
"Luminous" means "emitting or reflecting usually steady, suffused, or glowing light" or "bathed in or exposed to steady light." If we are indeed as awash in luminous poetry as the blurbeoisie implies, then it sounds as though we ought to be dodging beams of light each time we open a book. It's not that "luminous" isn't a lovely word, it's that it doesn't say anything about whether the poetry is good or not.
2. Another instance of this vagueness is the habit blurbeurs have of erecting dichotomies or contrasts, and often facile ones. "Dark, yet playful," "formal, but inventive," "blue, and somehow orange" (ok, we made that last one up)—these and their ilk abound. It's a nice gesture, suggesting that these slim volumes contain multitudes, but it's difficult to extract much about what's actually there on the page.
3. Our final quarrel is, perhaps, an existential one. Too often, poetry collections are blurbed as "important," "necessary," "urgently-needed." We at Parnassus wouldn't be here if we didn't regard poetry and its criticism as important, but surely, in an age when poems are read so rarely, we ought to reserve these phrases for the books that truly merit them. Calling mediocre poetry—or even poetry that is merely good—"important" does a disservice to those rare works of literature that truly deserve it.
What's sad here is that the blurb doesn't have to be this way. We're not opposed to the blurb as an institution like Mr. Orwell. This excerpt from Washington Post Book World on Natasha Trethewey's Native Guard gives is precise, concise, and appealing:
"The graceful form conceals a gritty subject…Trethewey has a gift for squeezing the contradictions of the South into very tightly controlled lines."
Here, the dichotomy is a helpful one, both informing and enticing the reader. Quality blurbs are out there, directing readers to the good books that are out there, but the flood of poor ones has been overwhelming. This excerpt from Edward Hirsch on the latest edition of Berryman's The Dream Songs is another one that earns its place:
"John Berryman must have the most idiosyncratic voice in American poetry. It is by turns quirky and whimsical, brilliantly learned and painfully mannered, smart-alecky, anguished. Berryman combined a passionate, disruptive syntax with an irreverent blend of highbrow and lowbrow dictions—part Shakespeare, part minstrel show, part baby talk…Unquestionably, [The Dream Songs] are Berryman's greatest achievement."
It's colorful, yes, but accurate—The Dream Songs are nothing if not colorful. Reading these brief lines, we actually get a sense of the experience of reading Berryman, a glimpse of just what it is we're in for.